Essay five: Hides and skins as products of the meat industry
The meat of the matter
There is heightened interest in ethical sourcing, animal welfare and social responsibility. At the same time, the global picture of livestock farming and meat supply and demand is changing. In this fifth essay in the Nothing to Hide series, Dr Phil Hadley of English beef and lamb promotions body EBLEX argues that this combination of factors has left today's producers and buyers of leather with a challenging set of conditions.

The global market for beef, and hence hides for leather production, is finely balanced. The supply is clearly based on the demand for beef, rather than the needs of the leather sector. This demand has seen some changes of late that have the potential to impact on hide supplies. Financial issues in the European Union have significantly reduced consumer spending on beef in certain countries, while global weather conditions have impacted on calf crops and feed availability and price. Animal health and market access issues have also played a part in the shifting nature of production. Further, the rising demand for protein in China and other regions (it has moved from a very low base five years ago to significant levels today) has attracted the attention of processors seeking to supply this strong demand.

For example, China has now overtaken the EU as the key destination for sheep meat exports and accounts for over 30 per cent of the total at a time of record high prices. So, global trading of meat is increasing to service these newer markets and this is gathering pace. As a result of these issues, beef and veal production in the main producing countries is expected to show only a small increase in 2014, based on recent forecasts from the US Department of Agriculture (USDA), although many producers are expected to benefit from cheaper feed supplies. For exporting countries, with the exception of the US, an upturn in trade is expected, while import demand in developing and emerging markets is expected to remain firm. In 2015, if global exports reach the levels forecast by the USDA, they will have increased 25% since 2009, a startling figure. This is likely to result in continued firm global beef prices, with the supply-and-demand situation remaining delicate.
Southern strength
Although still the largest beef producer, a further downturn in output is forecast in the US, with its lowest cattle inventory for some 60 years. This drop in production, however, is being offset by increased production among the major beef producers in the southern hemisphere. Falling cattle numbers in the US, as a result of lower calf crops over recent years and fewer live imports, have resulted in reduced supplies of cattle available for slaughter. In contrast, in South America, the cattle cycle has been moving upwards, with herd rebuilding occurring in recent years. Consequently, overall production in Brazil is forecast to be 3% higher in 2014, driven by heavier weights rather than an increase in kill numbers, which are forecast to come in at approximately 25.1 million head, down on the 2013 numbers.

Beef production in China is forecast to increase by 2% year on year as increased throughputs and higher cattle weights prevail. High profit margins are attracting large investments in the industry as back-yard producers continue to exit as a result of lower efficiency and limited investment. Nevertheless, consumption is expected to continue to outpace production, as favourable import prices and high domestic prices continue. Along with Hong Kong, USDA forecasts that China will account for two-thirds of the world's import growth next year.

Bovine production in India is forecast to increase again on the back of higher dairy prices and the development of more commercial farms. Exports are forecast to be up 6% to account for around 20% of world trade, according to USDA. India is currently supplying lower quality, price-competitive halal buffalo meat to south-east Asian, African and Middle Eastern markets. However, a lack of foot and mouth disease (FMD) status classification is likely to constrain access to new markets.

In the EU, which is both an importer and exporter on the global market, production is expected to increase slightly, after the reductions in 2012 and 2013. Lower output in the leading beef producing countries of France, Germany and the UK is forecast to be mitigated by an increase in Irish production. Subdued demand for beef and veal is likely to continue in the developed economies in 2014 as the economic conditions are not yet robust enough to support solid recovery. Therefore, demand growth for beef, which could give some support to global prices next year, is still likely to come from the emerging and developing economies.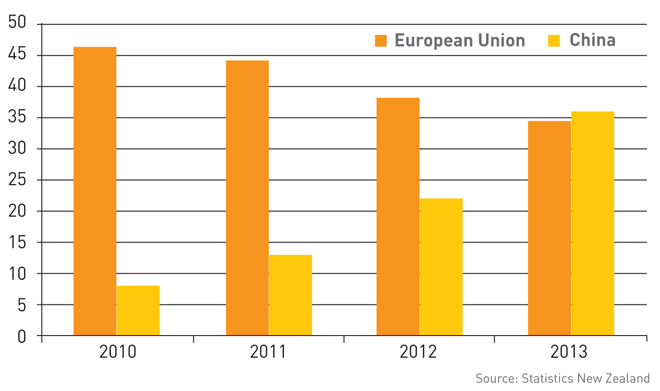 Global beef export prices have eased in recent months, reflecting the easing of prices in most principal exporters, with the exception of the US. The depreciation of the currencies of other exporters relative to the US dollar has been one factor in lowering prices. Combined export volumes for the US, Brazil, Australia, Argentina and the EU were 12% higher in the first ten months of 2013 than in the corresponding period for 2012, with only the EU reporting a year-on-year decline. Drought in Australia has fuelled kills and supply onto the global market, while in Brazil, with production at its highest level since 2007, subdued domestic demand means that supplies available for export have been higher. The beef export price of both countries has been competitive all year, in both cases below the global average.
Where hides come from
From a leather production viewpoint, while the volume changes are noteworthy, the sources of the increases are of interest. With a move from the traditional sources of raw material to newer producing regions come concerns about the quality of raw material and the volumes available. This comes at a time when demand has outstripped supply (for some types of material, at least) and so increases competition and further widens the needs for a wide sourcing policy. Further, link this with the heightened interest in ethical sourcing, animal welfare, social responsibility and so on, and it leaves the buyer with a challenging set of conditions.

Other external pressures are focusing attention on livestock production. Much discussion is taking place about the role of livestock in climate change and pollution, particularly in intensive, cereal-based systems in developed countries. Here, the concerns have centred on feeding grains to livestock and the amount required to produce a kilo of beef, as well as water usage, slurry management, methane production and so on.

In the UK, we have a different take on this as we have largely grass-based production with very little piped water used in the livestock sector. Animals also play a fundamental role in the shaping and maintenance of our landscape - the land looks like it does because we use it to produce great beef. If we didn't, it would change beyond recognition and the countryside we enjoy spending our leisure time in would be a far cry from that which we have today. Further, UK-based retailers and food service operators have pushed for carbon footprinting of production across a range of their supplying farms and have set targets for continuing reductions to meet their corporate goals on climate change. From a production viewpoint, such work has highlighted the difference in carbon between the most and least efficient producers in terms of carbon emissions per kilo of beef produced. This, in turn, relates directly to the cost of production - so, it's good for business, as well as for the environment and consumer perceptions of production. Such work will only increase in coming years.

Globally, the industry will have to step up to the mark to drive these performance improvements in light of these challenges to remain both profitable and in-line with their customers needs. EBLEX-AHDB have produced a number of documents highlighting the environmental credentials of production in an attempt to ensure there is balanced, well informed debate on this subject. Please see notes i, ii, iii.
Consumer behaviour
While campaigns such as climate change attract great attention, what is unclear is how this influences consumer purchasing behaviour, particularly for beef, which is very robust in the eyes of the purchaser and remains largely unaffected. Our own consumer research suggests that meat purchasers consider climate change low down their list of purchase decision considerations and, where there is a desire for personal change, respondees were far more likely to recycle more, change to low-energy electrical items or reduce car use rather than reduce meat consumption.

Similarly, media attention around the links to red meat and dietary health have not gone unnoticed but the overall impact is hard to measure. What is clear is that dietary habits are changing and becoming more diverse, so there are plenty of meal options available and some of these contain varying amounts of protein while others may not. While some individuals may be making conscious decisions to reduce protein intake, others with rising affluence will be increasing intake, and therefore global demand for protein is forecast to outstrip supply in the coming years.

What is clear is that the world's meat industry, and the related sectors including leather processing, must be on the same page when it comes to ensuring good, factual communication about the whole supply chain, as there are many instances of negative untruths circulating to consumers.
Balanced diets and health
This is also true for those involved in the health profession and in advisory roles. It is essential that these individuals have access to robust, positive information to enable rational thinking and clear communication to their patients or clients on the role of red meat as part of a nutritious and balanced diet and the needs of the body at it differing life stages.

We at EBLEX, which is part of the part of the Agriculture and Horticulture Development Board (AHDB), fully recognise this need and have established an information source targeted specifically at the health profession to convey balanced messages on meat and healthiv. Similarly, teachers need to have such information available so that their pupils receive factual information during their formative years if they are to enjoy a healthy, protein-rich diet for life. One area where the livestock and meat sectors and the leather sector can be more positive is in presenting whole animal utilisation across a spectrum of products.

From hides, leather, pharmaceutical, energy, the list goes on. One thing is clear, if there is a useful product that can be derived from the live animal and in doing so reduce waste, then that is good news. Where the carbon cost of this material lies is subject to debate: does the hide cost sit with the farmer, slaughterhouse or leather manufacturer?

There are arguments to support all sides but we should consider the supply from farm to consumer as a continuous chain with each sector reliant on the other and encourage open dialogue both internally and externally. If we are not positively communicating all the good messages about our industries then there are plenty who will take the alternative position. In summary, I strongly believe that the whole industry does indeed have nothing to hide.

The reality is, in fact, quite the opposite. We produce a whole range of products that the global consumer increasingly demands while at the same time striving to improve our processes to ensure social responsibilities are met. Perhaps we should communicate this a little better.

i. http://www.eblex.org.uk/wp/wp-content/uploads/2013/05/p_cp_testingthewater061210.pdf
ii. http://www.eblex.org.uk/wp/wpcontent/uploads/2013/05/p_cp_landscapes_without_livestock_report_emailable121211.pdf
iii. http://www.eblex.org.uk/wp/wp-content/uploads/2013/05/Beef-and-Lamb-APPG-The-carbon-footprint-of-the-beefcattle-and-sheep-sector.pdf
iv. http://meatandhealth.redmeatinfo.com